This staggering kitten chose his own home by melting the heart of one of the shelter's volunteers.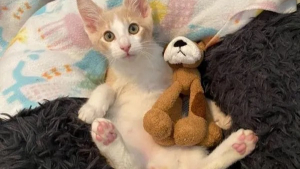 Mr. Beesley staggers with each step. This orange and white kitten has a neurological condition called cerebellar hypoplasia. A pathology that affects the movement and coordination capacity of the feline, but which is neither painful nor progressive. However, like any disability, it makes adoption even more complicated. Never mind ! If no one chooses Mr. Beesley, Mr. Beesley will choose his own family!
Mr. Beesley's mum lived down the street
Mr. Beesley comes from a litter of 6 kittens. Her mother was a stray cat who was rescued from the streets before giving birth and placed in foster care. Some time after birth, the cubs were taken to the shelter Salem Friends of Felines for their sterilization. It is at this moment that Kaylaa volunteer, met them.
When Kayla spotted Mr. Beesley in his cage, his heart melted. The kitten wobbled with every step, but was very happy and smiling. "He was brought in for treatment on Tuesday, and we spent time together while he recovered. He needed a little extra help eating, so I had an excuse to spend more time with him at work, and he stole my heart.", told Kayla at lovemeow.
A reciprocal love
Whether Kayla fell for the wobbly kitten, Mr. Beesley he too had a crush. As soon as he saw the volunteer, he snuggled into her arms and purred loudly. A preferential treatment that the kitten reserved for the volunteer he had chosen. "My co-workers were trying to come in and get some of his famous hugs I always talked about, and he wasn't hugging them the way he did with me.", Told Kayla.
Back home and off for a day, Kayla only thought of the wobbly kitten. When she returned to the shelter the next day, she was relieved to find that no one had adopted yet. Mr. Beesley. The young woman did not hesitate a second longer. "I adopted him and brought him home that night. He's the happiest, nicest, cutest little guy."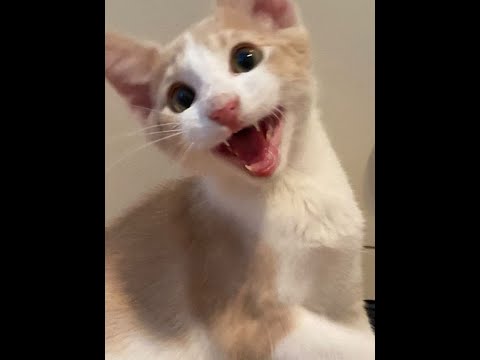 Since, Mr. Beesley thrives in its new home. His mother made sure to protect the house with blankets to cushion the kitten's many falls. She also gave him toys to help develop his muscles to help him walk better. And when he needs a little comfort, he continues to cuddle up in the loving arms of Kayla.

By Wendy Lonis
Web editor
An agricultural engineer by training, Wendy combines her passions for words and animals by writing for Pets-dating. A freelance web writer, she shares her home with many furry and feathered friends: an Australian Shepherd, chickens and even racing pigeons!