Some fans go after their ideas. An Iron Man lover has taken advantage of his Tesla Model S to pay tribute to his favorite superhero.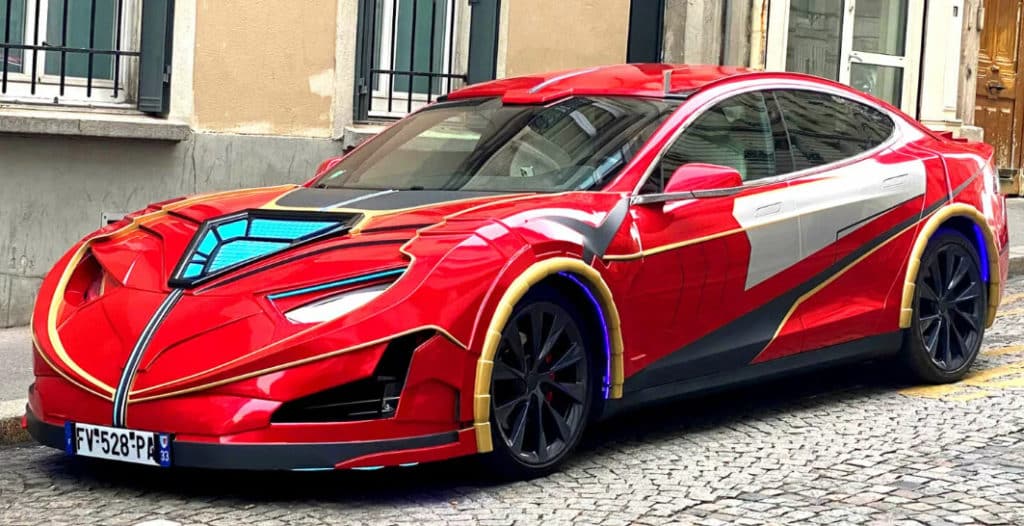 Pop culture is engulfed everywhere, even on the asphalt. After the thermal "Bat-Car" and the 100% electric Batmobile, it is the Marvel universe that is in the spotlight. Images captured in France and recently shared on Reddit show a Tesla Model S customized Iron Man style. Many modifications have been made so that the latter sticks to the attributes of the superhero.
In addition to the characteristic colors of Iron Man – red, gray, gold and black – we can distinguish a large blue pattern on the hood which recalls the reactor of the armor of the character. Furthermore, golden fender extensions have been placed above the wheels, which are illuminated by purple LEDs. At the rear, the bumper has been embellished with fake exhaust pipes which obviously have no place on an electric car.
A Tesla Model S disguised as Iron Man
The story does not say who owns this superheroic Model S. Nor what sums have been invested to carry out all these visibly expensive modifications. However, it is safe to say that its owner is a hardcore fan of Iron Man, a character who unfortunately cannot live again in the MCU, as we explain to you here.
What do you think of this Tesla Iron Man? Could you drive a car with such glaring looks? If you are also a big fan of the superhero, we advise you to take a look at our file which lists all the direct or indirect deaths caused by Tony Stark. And there's a bunch! You can also let yourself be tempted by the Nano Glove of Infinity (in LEGO) which allowed Iron Man to put an end to Thanos.