Four years after its opening on the Place des Capucins, the café of the Wanted community is closing its doors in Bordeaux for good this Wednesday, October 5. If the news is sadly welcomed by the community of solidarity associations, the founders of this place of life point to a lack of profitability and defend new, better thought out projects, in Bordeaux and Paris.
A page turns in the community of solidarity in Bordeaux. This Wednesday, October 5, the Wanted Café located on Place des Capucins will definitely lower its curtain, four years after its opening, almost to the day, on August 31, 2018. Jérémie Ballarin, one of the three founders, evokes a problem of profitability:
"Wanted is a project that has been looking for its model since its inception. Its fullest vision is to create a model that combines economy and solidarity. We want these two ways of seeing the world to coexist. […] Today Bordeaux closes because in the experimentation of this model the slider of solidarity was pushed very high. This made the economy of the project difficult. The scale should have been more balanced. »
The team behind the Wanted community, which in just a few years has brought together more than a million members on the Facebook social network around a self-help group, turns the page on its Bordeaux café with philosophy and draws a reasonable balance sheet.
"We are closing a model where we have experimented with things that are good and things that are not so good" adds Jérémie Ballarin.
Bordeaux-Paris
It is therefore useless to look for excuses on the side of license 3 that the café has never succeeded in obtaining from the prefecture, despite exemptions granted by the town hall of Bordeaux. "We could adapt," replies the co-founder. Even less on the side of the insecurity noted in the district.
"It's not so much the insecurity that's the problem in this neighborhood, the problem is people's perception of it. […] We were told we wouldn't last three months, and we stayed four years. We were told with your concept, we were going to be overwhelmed or things were going to go wrong. For four years, we made 25,000 coffees and suspended dishes, around forty solidarity tables. We worked with around fifty solidarity associations and distributed 20,000 euros to around thirty associations [la société reversait 2% de son chiffre d'affaires aux assos, NDLR]… Having spent all this time there, it's a place full of promise. »
It is also useless to assume that Bordeaux is closing because Paris has opened. "It's a shortcut that will exist" recognizes Jérémie Ballarin who wants to recall a certain chronology:
"The Wanted Café Bordeaux opens in September 2018. At the end of September, Facebook announced that it wanted to financially help five communities around the world to develop. We are. The money received was quickly sent to Paris, since, contrary to popular belief, the first Wanted group was in Paris and the Bordeaux group launched three years later. For us it was logical that there is a café in Paris. If Bordeaux could work, there would have been both. »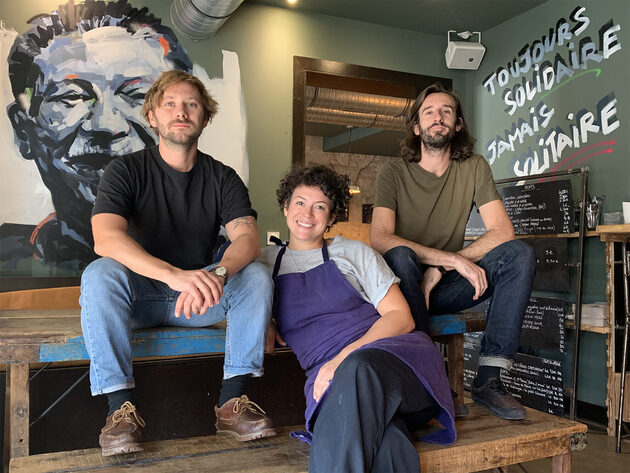 Learn lessons from
In the new Parisian company inaugurated at the beginning of September 2022, with a large terrace, a good location and a license 4, "a more suitable tool", the Bordeaux experience will be a reference:
"The solidarity slider will be slightly lower. We are going to wait for our profitability issue to break even before distributing our 2% of turnover to associations. But the suspended took away. To date, we have distributed 300 coffees and hanging dishes. We welcome associations like La Cloche every Thursday for its benchmark where 20 to 30 homeless people meet. The Dans ma rue team uses the place to store, prepare sandwiches and start the marauding. And we are going to have our first solidarity table on October 9th. »
The founders of the Wanted community are not abandoning Bordeaux, however. If there is no question of a new address for Wanted, Jérémy Ballarin says he is working on Bordeaux Nord, "in a large-scale project with the inhabitants, where Wanted will not necessarily be visible". We won't know any more.
"We have expertise that we make available to anyone who wants it. We have demonstrated that it is possible to open and carry out solidarity projects and we now know what to avoid. There are things that will be done, not necessarily in our places, but in the places of others who are interested in our experience. »
The Wanted team notably promises to support any study for the resumption of its address at the Capucins. Many restaurateurs have come forward, and also an association "which has made this place its base camp and which is interested in taking it over". Which ? To be continued.
This item is free. To support our work, subscribe!
reactions
In the neighborhood, merchants greeted the news of the closure of Wanted Café with great regret. The Vietnamese restaurant Bimbao like La Laiterie Burdigala, close neighbors of the café, recognize "an activity that contributes to the dynamics of the district":
"They allow a certain mix and that people from different backgrounds meet, comments the employee of the Laiterie. It is in the image of the Capuchins and the particularity of this district. »
As for the associations, it is also a surprise. Ovale Citoyen, Les Gratuits, La Maraude du Coeur… and many others came to hold meetings or organize actions. Eric Chevance, from the Bienvenue collective, testifies to this:
"During the last mobilization of Bienvenue, last April, the collective was able to pay a refugee who worked all month with us. If we were able to generate a salary for him, it is because the Wanted Café had decided to give us a fraction of its profit from its two months of activity the previous summer. This aid, a few hundred euros, may seem modest, but it is essential for organizations that operate mainly or solely on the basis of voluntary work, and have few means. It also shows that beyond the coffees or suspended dishes and the solidarity meals regularly offered to the most deprived, the commitment of the Wanted Café is not in the words or the display but is as real as necessary. »
Held by an SAS founded by Jérémie Ballarin, Christian Delachet and Luc Jaubert, the Wanted Café employed four employees, 3 permanent contracts and a fixed-term contract.