Snowy days give rise to endless play sessions for our 4-legged friends. During one of them, a dog had a rather original idea, which her mistress filmed and posted on TikTok. Its success on the social network was enormous!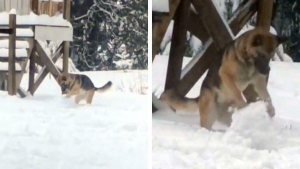 This female dog looks like she's living her best life, as the magazine tells The Dodo. Sara Onderwater is the proud owner of a German shepherd which will show originality during a snowy day. The dog did not come to rest or relax in the snow… on the contrary! She's going to get her hands dirty and surprise more than one, her mistress included!
A rather exceptional talent
In a video taken from his living room, Sarah sees his dog making… a snowball! The German shepherd seems to have discovered a new passion. She shows flawless dexterity by rolling a block of snow in her garden. The dog who wags her tail provokes the laughter of her mistress, who could not help but share this unique moment on the social network TikTok.
@saraonderwater

but does your dog make giant snowballs? #GSD

♬ original sound – Sara Onderwater
Internet users reacted by the thousands! Some did not hesitate to suggest to Sarah to repost the video with the soundtrack of the film Snow Queen. Others called the dog " ingenious " and " intelligent ". It is clear that she has amazed more than one, since this video has been seen more than 2 million times!
We wish her many more snowy days, so that she can use her building skills and share them with TikTokers more than conquered.

By Maria Anki
Web editor
A great friend of animals from a very young age, Maria gives them a real devotion and follows them everywhere on social networks. Coming from a linguistic course, and therefore very keen on writing, she now takes pleasure in rubbing shoulders with the animal world accompanied by her most faithful four-legged companion, Monkey.