Tracy Chambers has always lived with cats, but none of them had the same hobby as Charlie. This feline is reputed to be a sock thief, which has made it very famous in its neighborhood…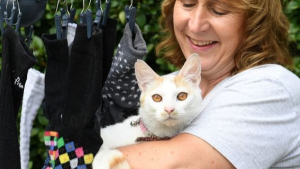 Burglary alert! Do not leave your socks unattended. It could well be that a feline hastens to steal them from you, never to give them back to you… This white and ginger cat is charlieand it is the star of its district of Rutherglenin Scotlandas the story goes Daily Record.
A bit strange passion…

Rutherglen Reformer
Tracy Chambers sees the socks parading in his yard, and yet, they are not his. Pinks, violets, grays, all the colors pass through it. In effect, charlie seems to have made a habit of stealing them from the gardens of its neighbours, and of spoiling its mistress by bringing her new pairs every day.
It all started the day the feline flashed on a pair of white socks, which he brought back to his garden. Since then, he has never stopped! Intriguing, for Tracywho nevertheless prefers this to a hunt for mice…
Rutherglen Reformer
The cat's passion is such that now his mistress has a whole collection of them! An adventure that she was quick to share on a group Facebook. Who knows, maybe some would like to know where their socks may have gone…
Charlie, star in spite of himself
Fortunately, the antics of charlie make everyone laugh, and no one blames him. On the contrary, some neighbors have even left their socks outside to have the honor of having them stolen by the fearsome feline! He's also been caught red-handed more than once, as this amusing video proves:
charlie knows he's got everyone behind him, so thanks to that, there's no reason he'll ever be down in the dumps…

By Maria Anki
Web editor
A great friend of animals from a very young age, Maria gives them a real devotion and follows them everywhere on social networks. Coming from a linguistic course, and therefore very keen on writing, she now takes pleasure in rubbing shoulders with the animal world accompanied by her most faithful four-legged companion, Monkey.