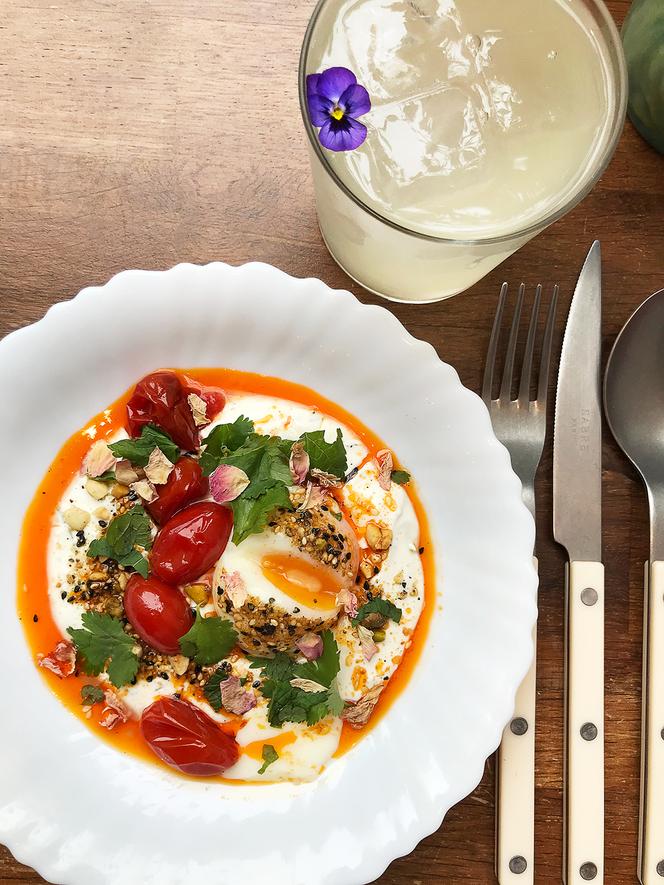 Dince the publication of his cookbook (Gram. Manual of a Parisian kitchen, First), in the fall of 2021, this pocket canteen opened in 2018 is always full. On Saturday, from 10 a.m., a small crowd gathers in front of the chalk-white facade of 86, rue des Archives. Even if the neighborhood is very (too) busy on weekends, the reason for Gramme's success lies elsewhere: in the tasty, applied and comforting cuisine of its young chef, Marine Gora. The menu, redesigned as often as possible, is proportional to the size of its establishment (constricted, let's say), but there is always a nugget there.
On the September menu, a very colorful plate jumps out at you. Its name sounds like the beginning of a poem: "Eggs like a cilbir". A Turkish specialty, cilbir is a mixture of yoghurt and spices with poached eggs. Traditionally served at breakfast, it can also be savored as a dip with bread, your fingers never far from the creamy mixture, at lunch or as an aperitif. Marine Gora had the idea to deliver her own version after having tasted it everywhere, including in Mexico, where she spent her last vacation.
His "eggs like a cilbir" are presented with a loaf from the famous Sain bakery (15, rue Marie-et-Louise, Paris 10e), sliced, toasted and added with a lick of butter and fleur de sel. The crispy fatty bread plunges into the very illustration of tonic smoothness, that of fresh yoghurt and warm soft-boiled egg (one or two, as desired), garnished with freshly roasted and very lightly sweetened datterino tomatoes. The dukkah, a Middle Eastern mix of spices, seeds and crushed nuts, and the few parsley leaves and rose petals sprinkled on the surface enliven the whole, without spoiling the sweetness.
Read also:
Article reserved for our subscribers

What are we eating this afternoon? 100 Parisian restaurants where to have lunch for less than 20 euros
Very quickly, the ingredients merge into a confused mixture of flavors and textures that makes you want to come back again and again, almost frantically, with a spoon when the bread runs out, until the Pyrex plate white is duly cleaned. Big success of Gramme's summer menu, the recipe was back in service at the start of the school year, with kale and chickpeas preparing to replace the tomatoes. A little later still, in November or December, Gramme will invest a second address in the 11e district, with more space and real stoves. We can expect other feats.
Eggs as a cilbir, 12 euros. Gramme, 86, rue des Archives, Paris 3e. grammeparis.fr