When people pass him on the street, Wallis catches their eye. The reason ? The pooch was born with a double muzzle. But the Golden Retriever doesn't care, and he enjoys life like any other dog.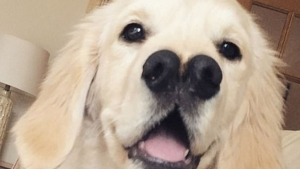 Lana Culley21, lives in Bournemouth, in the South of England. She is the happy mistress of 2 gorgeous Golden Retrievers who form an inseparable duo: Sunny and Wallis.
Caters News Agency/Daily Mail
The latter has a habit of arousing the curiosity of passers-by in the street, as well as that of Internet users who see his photos on social networks. It would seem that his face has something to do with it…
Wallis was born with a cleft palate
As reported by DailyMail, the pooch was born with a cleft palate, which fortunately does not cause him any particular health problem. It is even this congenital malformation that caught the eye of his mistress, lana. Impossible for her to resist this very special face…
Caters News Agency/Daily Mail
Moreover, without this, Wallis could never have met his best friend for life, Sunny. The 2 doggies spend their days running together around the family farm, and enjoying long hours of swimming in the lakes or at the beach.
" He's no different from Sunny, and he's totally unaware of his difference. We wouldn't change it for the world! says his mistress, completely under his spell. Enough to ensure that the doggie with the abnormal appearance actually lives in a completely… normal way!

By Maria Anki
Web editor
A great friend of animals from a very young age, Maria gives them a real devotion and follows them everywhere on social networks. Coming from a linguistic course, and therefore very keen on writing, she now takes pleasure in rubbing shoulders with the animal world accompanied by her most faithful four-legged companion, Monkey.