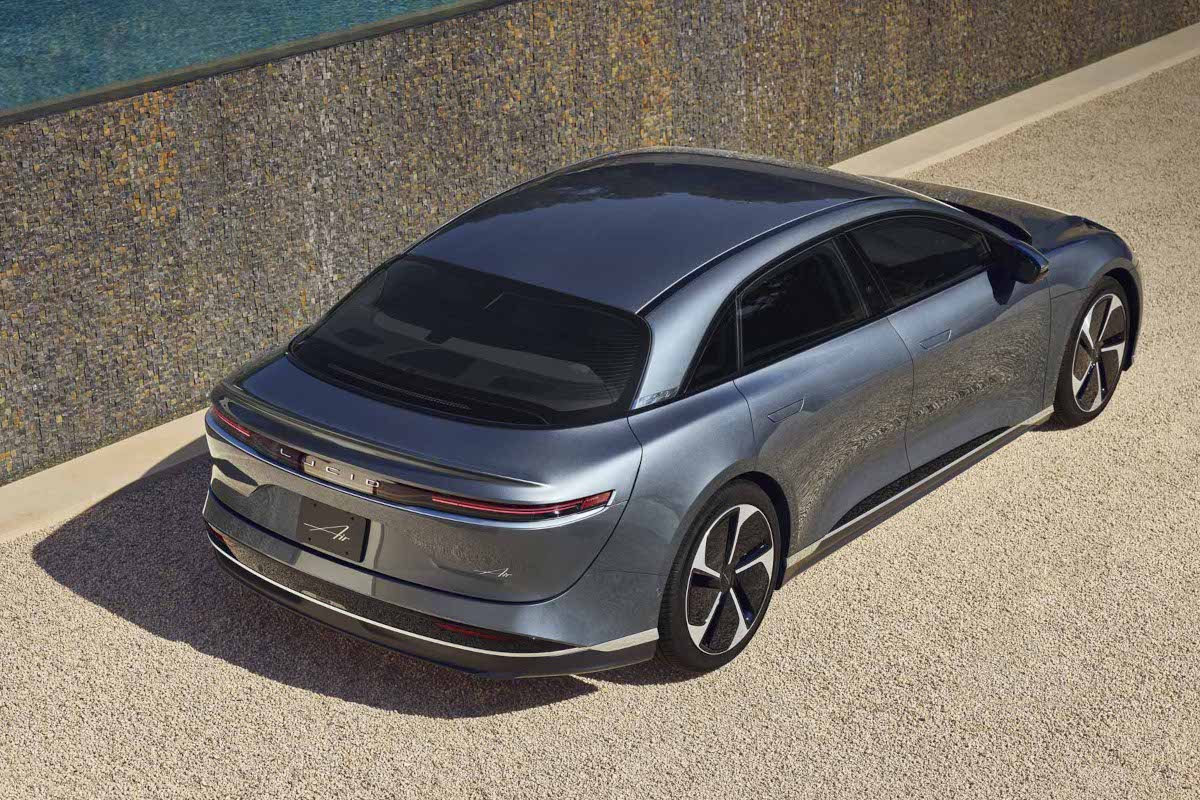 Try Lucid Air?
Build your Lucid Air vehicle or request a free trial.
During a recent presentation, Lucid unveiled the other members of the family with the Air Touring and Air Pure.
Lucid unveiled new versions of the Air sedan, the Air Touring and Air Pure.
Lucid seems -almost- on track now. After the launch of the Lucid Air Dream Edition, which put an end to a long wait, the brand released the Grand Touring version. And the latter will feel less alone in the range now: Lucid has just lifted the veil on the other promised versions, the Air Touring and Air Pure.
The first comes to settle very logically under the Grand Touring in the hierarchy of the range. It has all-wheel drive provided by two electric motors, for a total power of 628 hp. A power always pretty that allows it to advance a 0-100 km / h in 3.4 s. It embeds the 18-module version of the battery developed by Lucid (but with cells supplied by LG Chem), with a net capacity of 88 kWh. It thus displays an EPA autonomy in sharp decline of 683 km, but it presents the best efficiency of the range. This is undoubtedly the result of minor corrections which have not been specified, but which allow the sedan to announce an aerodynamic coefficient of 0.197 Cx.
Entry-level Lucid Airs, but not right away
The Lucid Air Pure currently occupies the entry-level role. But before the launch of the single rear-engine rear-wheel-drive version, the American brand offers the two-engine Pure AWD version. Powered by 486 hp, it still boasts a time of less than 4.0 s on the 0-100 km/h exercise. However, the range of 660 km does not appear as generous as its sister with the same battery. Nothing penalizing, let's face it, with 23 km of difference on the benches of the American homologation.
Read also
Lucid Gravity: the electric SUV puts its head in the stars
The Lucid Air Pure therefore opens the electric road catalog, at a price of $87,400 (€83,900). But it is more precisely the rear-wheel drive version which will be available next year. The configurator only allows you to choose all-wheel drive for the moment, against an extension of $5,500 (€5,200). The Lucid Air Touring starts at €107,400, but the Surreal Sound Pro ($4,000) and DreamDrive Pro ($10,000) need to be checked off to consider fast delivery.