Stocks had a tough Friday after a failed recovery attempt on Thursday. The fell more than 2% on Friday to end the week down more than 1.5%. The bearish cup-and-loop pattern that I signaled on Thursday continued on Friday and the index closed at 3,583, bringing it back to Wednesday's level.
Typically a cup-and-cove rising pattern retraces to cup lows around 3,500. Additionally, Friday's decline is a rejection of Thursday's rally, and Friday's selling generally continues until Monday.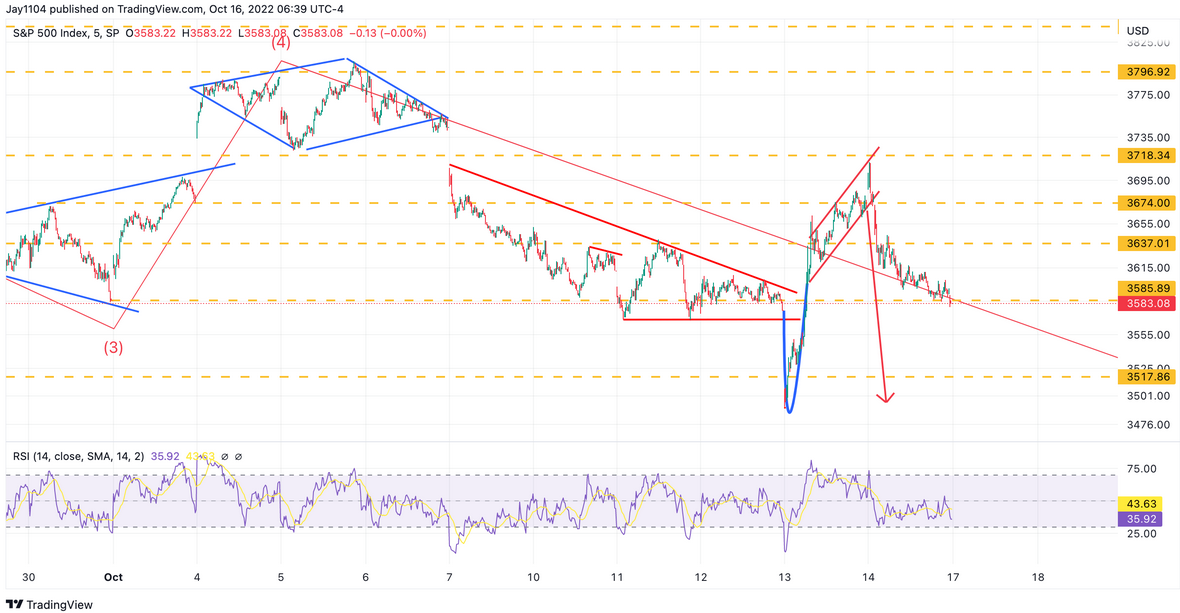 The NYSE's Advance-Decline hit a new low on Friday, possibly paving the way for a new low for the S&P 500. This suggests that Thursday's lows were not a sellout event, and that the lows of the market are probably not in place.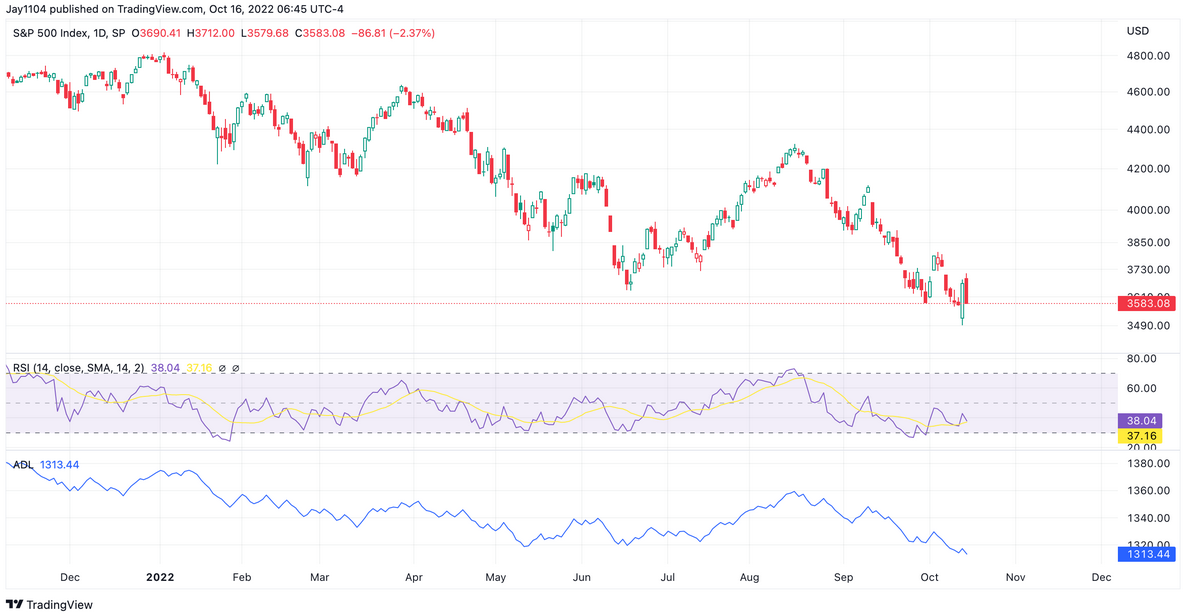 S&P 500 Index Daily Chart
1. 10 years
Also, rates continue to rise, and it's hard for me to think that we could continue to see rates rise and stock prices bottom out. So as long as rates continue to make new highs, equities should continue to make new lows. The rate hit a new closing high on Friday, ending the day at 4.02%. A forecast of the more recent upside move from the October 4 lows suggests the 10-year rate could climb to around 4.4%.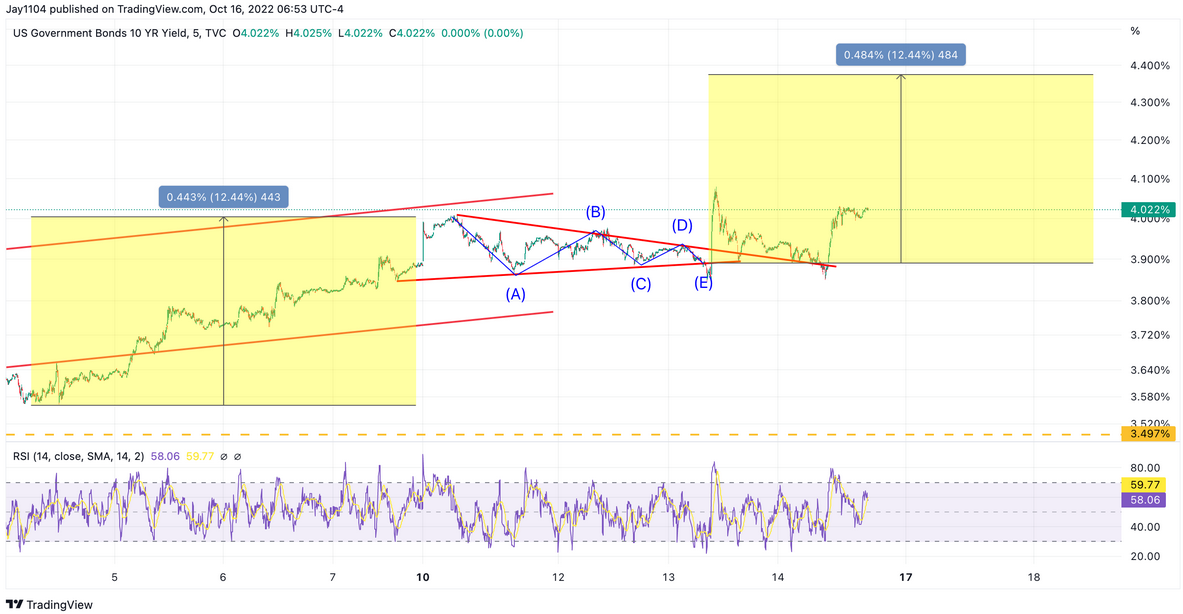 2. ARKK
The takeover of the ARKK Innovation ETF (NYSE:) is not forthcoming. The ETF continues its descent, as the RSI suggested the other day. At this point, one can only hope that it finds support at the lower end of its trading channel at around $31.50.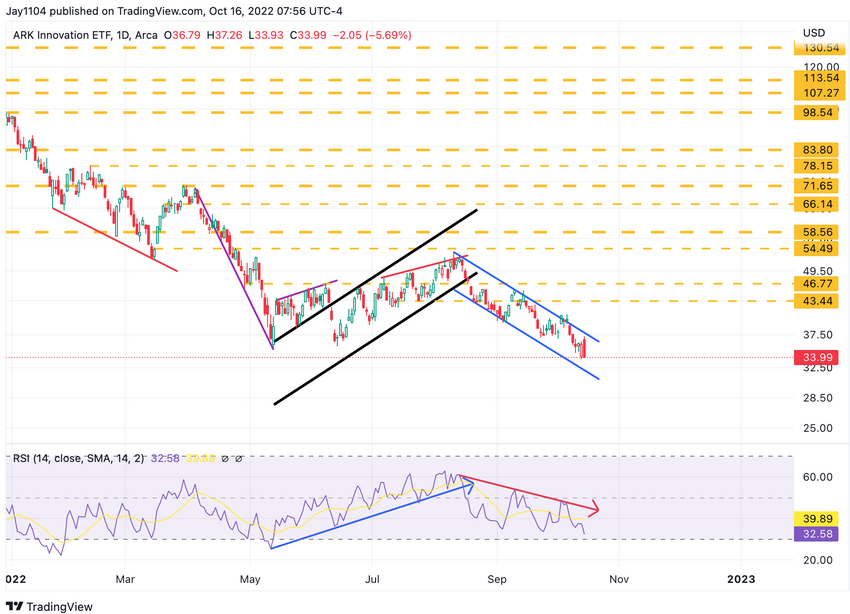 3.Tesla
Tesla (NASDAQ:) will report earnings this week, and the chart looks awful, as it's trading just a little below support at $205. If this support level is broken, there is nothing until $180, and of course there is this gap at $137, which has yet to be filled.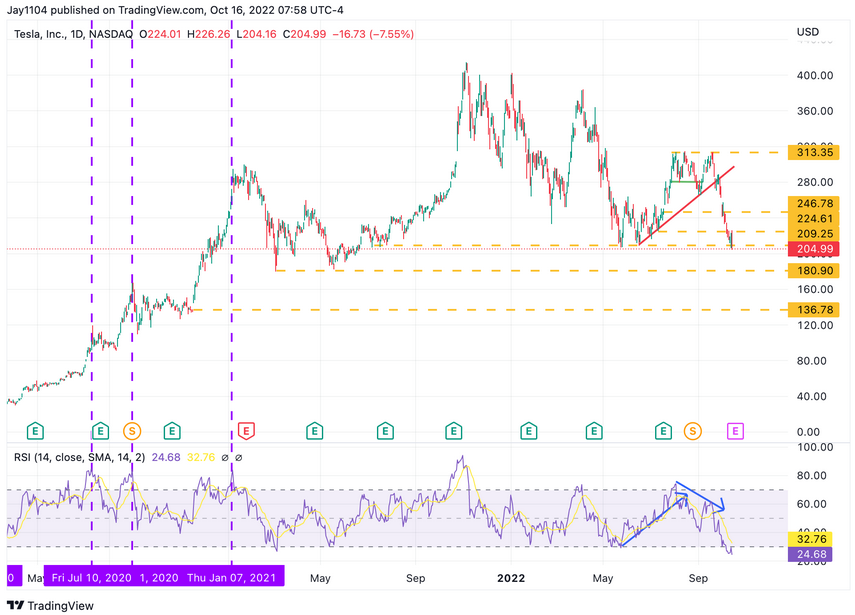 4.Amazon
With Amazon.com (NASDAQ:) having returned all of its summer gains, it might as well retest the lows around $102. I think we will find that $102 is not the bottom.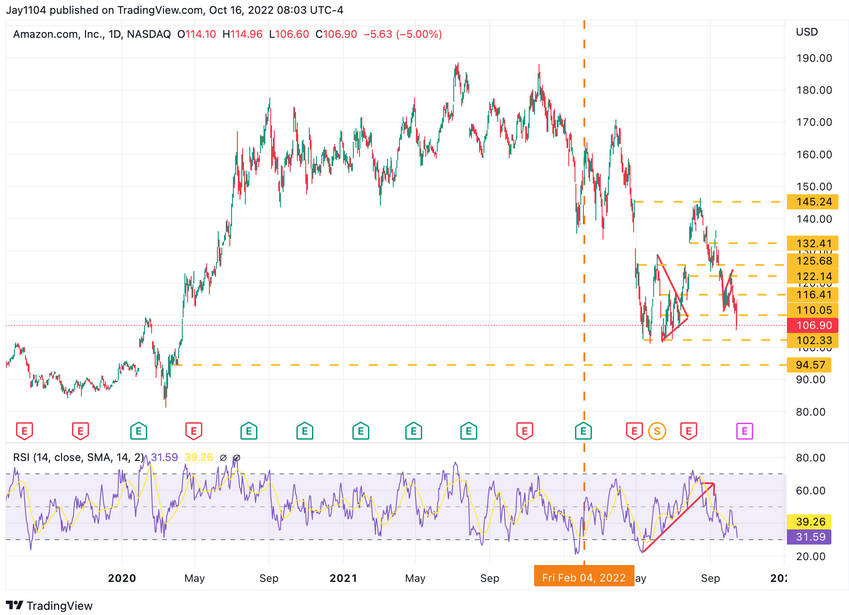 5.Netflix
Netflix (NASDAQ:) appears to be in a distribution model, suggesting stocks are heading back to where the rally started at $170.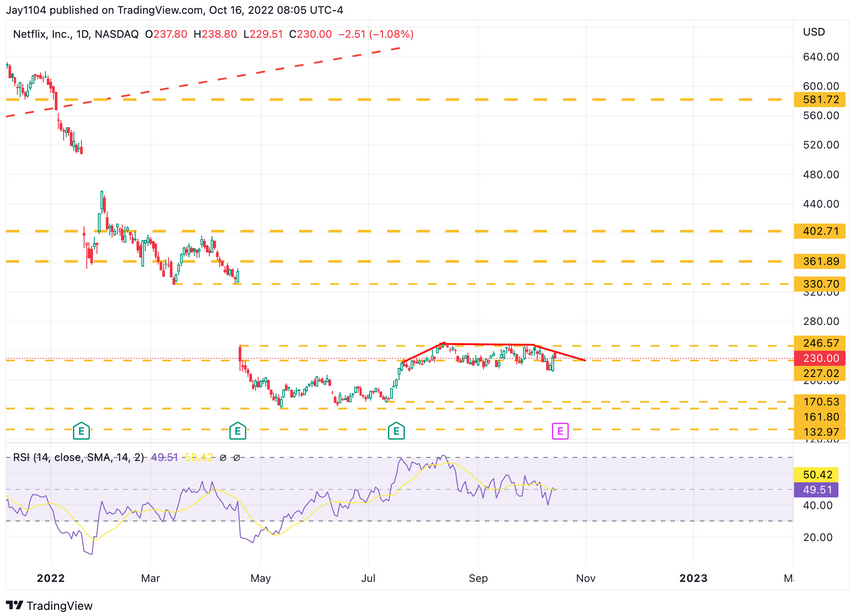 6. Twilio
Twilio (NYSE:) continues to melt as well, and with support now in play at $63, a drop to $44 becomes a possibility.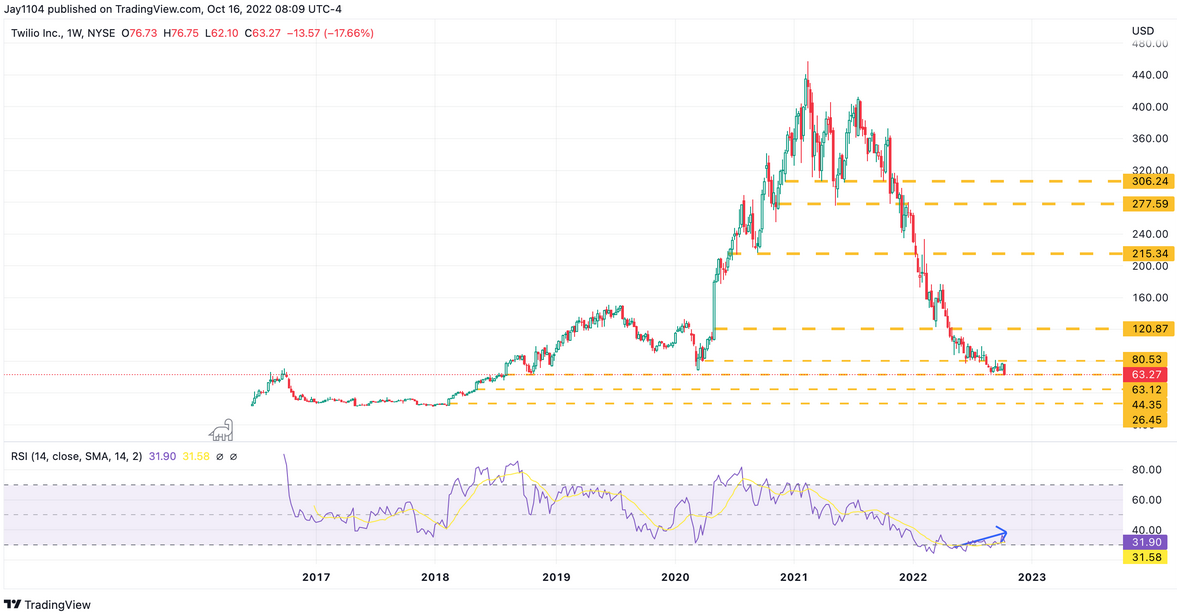 7. Roku
We can end with one of my favorites. Roku (NASDAQ:) is melting, trading at levels not seen since 2019, and with a gap to close at $34, I think there's still a good chance it gets there.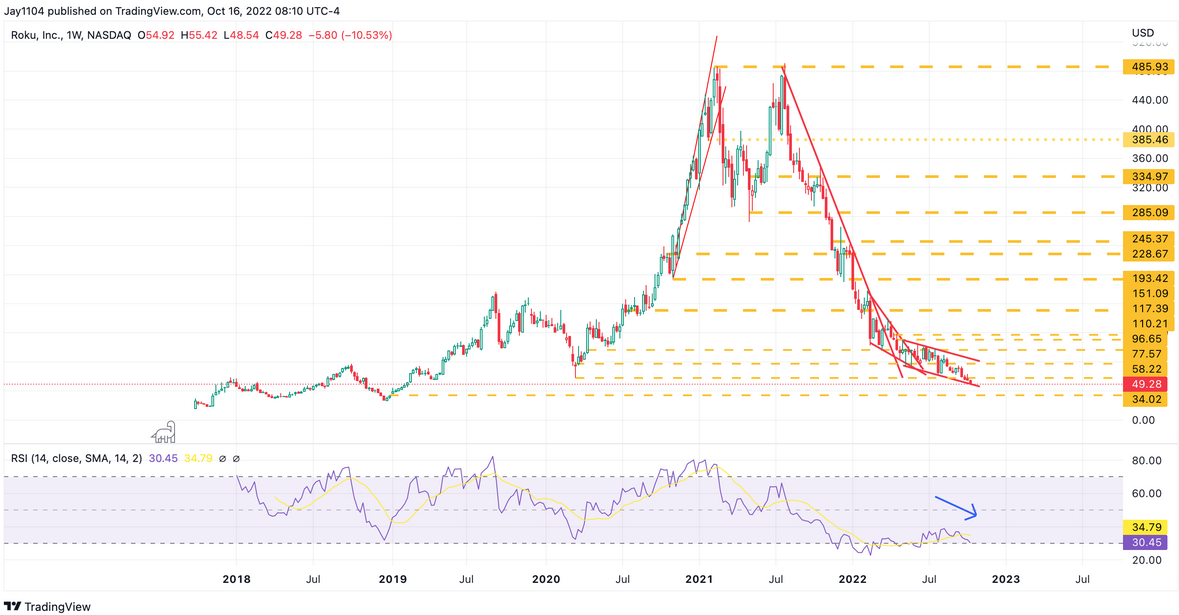 Watch the video below to learn more about why the S&P 500 decline may not be over yet:
original article