Tesla has published the financial results for the first quarter of 2022. Despite a complicated economic environment, records continue to be broken.
A global crisis that continues and increases the price of certain parts, factories sometimes shut down when contamination starts again (in China), sudden price adjustments that do not benefit customers, uncertain delivery times … If we look at the situation around Tesla, it is difficult to be optimistic about the financial health of the manufacturer. However, the latest assessment, published on April 20, is ultra positive.
Between January 1 and March 31, 2022, Tesla recorded sales of $18.76 billion — a new record and, above all, a colossal increase of more than 80% compared to the same period in 2021 The multinational has also improved its margin (thanks to the price increases), allowing it to generate a net profit of more than 3.3 billion dollars. Again, this is a record.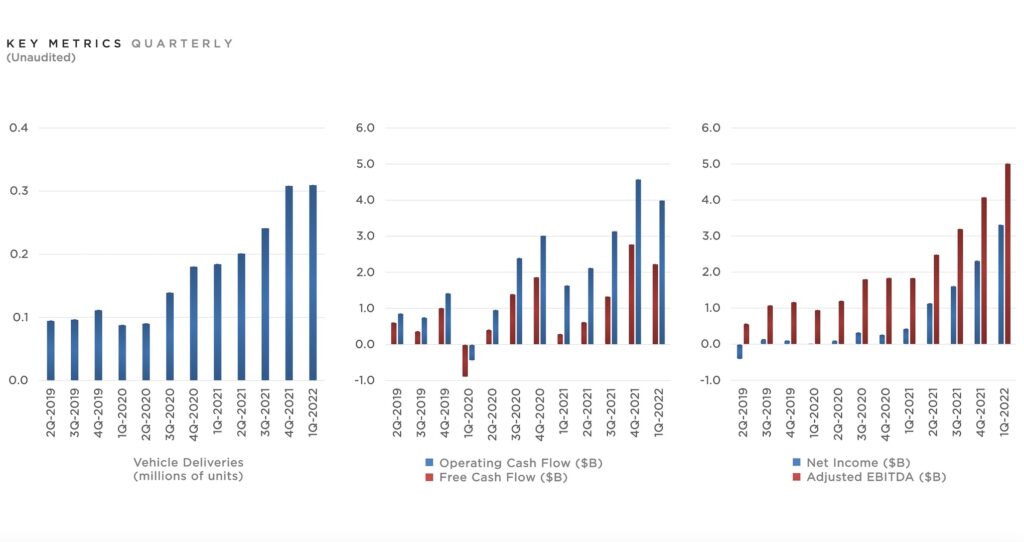 All the lights are green for Tesla
If Tesla produced a little less cars than in the previous quarter (305,407 vehicles assembled, against 305,840), it delivered a little more: 310,048, against 308,650, beating forecasts and setting yet another record in the matter. During the first quarter of 2021, Tesla had delivered only 184,877 cars – this is to say the enormous progress observed by the firm in twelve months. And there is no reason to fear a drop, since two factories have just been inaugurated in quick succession – Berlin and Austin, which are currently producing Model Ys.
" It was a particularly difficult quarter due to supply chain disruptions and China's zero tolerance for covid. Incredible work by Tesla teams and key suppliers saved the day ", welcomed Elon Musk in a tweet posted on April 2 about the new delivery record.
" We plan to increase our production capacity as quickly as possible. We expect to increase our delivery capacity by 50% every year says Tesla, bearing in mind that in recent months factories have not been able to operate at full capacity. This setback, perceived as a " challenge ", should continue in 2022. In the meantime, it does not seem to have a negative impact on the bank account of Tesla.
Tesla focuses most of its promises on productivity, while these reviews have often been an opportunity to take stock of future products. In the press release, we can only read a few lines on the Cybertruck, with " progress made on industrialization ". This does not say much about the availability of the bold electric pickup, since the same terms were used in the previous quarter.