Cheap, easy and ready in less than 5 minutes, chef Etchebest offers you this week to make a homemade crumble dough. It is essential for the realization of the dessert of the same name, comforting to perfection with the arrival of autumn. Here is her recipe and tips!
The still lukewarm crumble, just out of the oven, is the perfect dessert to enjoy with the arrival of cool autumn evenings. Philippe Etchebest offers you in his latest Youtube Mentor video, his crumble dough recipe. Here is his recipe with next to nothing and his tips for a crispy and delicious crumble.
This comforting fall dessert can be prepared with apples, pears or other seasonal fruits. Sprinkle your fruit with this crumble dough, bake and you're done!
This recipe is economical, very quick to make and above all, delicious. ! Did you know ? The chef's favorite crumble is the one with apples and raspberries! You can also find his crumble recipe in his book or soon in a next video!
Latest news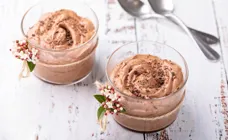 The recipe for crumble dough by Philippe Etchebest
100g butter
260g flour
130g caster sugar
1 egg yolk
Start by getting out your electric mixer. If you don't have one, it doesn't matter, do without.
Add the flour, sugar and softened butter to the stand mixer bowl.
Secret number 1 : use softened butter, so that it incorporates perfectly into the flour and sugar. Soft butter is butter at room temperature.
Add the salt.
Separate the yolks from the whites. Keep the whites to make meringues for example. Add the yolks to the robot bowl.
Mix everything together on medium speed. Otherwise, do it by hand.
Leave to run for about 3/4 minutes.
Secret number 2: the perfect aspect of the crumble is a sandy appearance. This is the result you should get after mixing the preparation with a robot or by hand.
Transfer this preparation to a bowl.
It's ready, all you have to do is prepare the fruit to make a good crumble!
Philippe Etchebest – Cook well accompanied with my Mentor method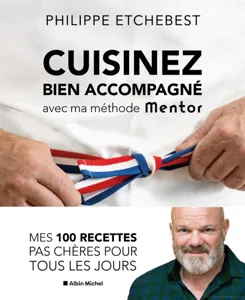 © DR
Amazon

15.99

Amazon

19.91

Fnac.com

19.91

Amazon Marketplace

37.27

Amazon Marketplace

49.9
How the pricing table works

See more offers
See less offers

The price offers are listed in ascending order of price. The prices displayed are inclusive of VAT (all taxes included). The price of postage displayed corresponds to the cheapest home delivery offered by the merchant. aufeminin.com references in its price tables the merchants who wish to be present on the condition that they display prices with VAT (including VAT – all taxes included) and that they present an excellent level of quality of service and customer satisfaction. This referencing is paid. Our price tables are therefore not exhaustive of all the offers and merchants present on the market. The offers present in the price tables are updated daily and several times a day for certain shops.
Read also :