Feline owners often wonder where their cats are once outside. A recent Norwegian study raises doubts about these questions, and the results are surprising!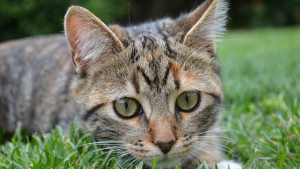 Whether domesticated or feral, cats love to be outdoors. These born hunters are rarely content to remain enclosed between 4 walls and often ask their masters to open doors and windows so that they can escape.
Illustrative photo
The head of the study, Torbjørn Haugaasenof the'Norwegian University of Life Sciences (NMBU), and his team, wanted to find out more and help cat owners better understand what happened once the felines were left to fend for themselves in the wild.
Surprising but reassuring results
The newspaper The Jerusalem Post explains that the scientists wanted to map the space used by cats outdoors. To do this, they tracked 92 cats by GPS collar in a restricted area of ​​1.1 kilometers for a month. And it looks like the cats are actually…just around the corner!
Illustrative photo
Our four-legged friends don't seem to venture far. They spend the vast majority (79%) of their time 50 meters or less from their home and travel a maximum average distance of around 352 meters. Very few of the cats monitored stray further from home, and very often these were not sterilized.
The behavior of felines also impacts the ecosystem
Illustrative photo
If this study reassures the owners of cats, it also makes it possible to understand the state of the fauna in the zone concerned. These formidable hunters of rodents and birds play an important role since they are the cause of the death of billions of birds and mammals each year according to certain scientists!
However, these hunting instincts make it possible to limit the proliferation of rodents and thus to preserve cereal stocks safe from pests.

By Maria Anki
Web editor
A great friend of animals from a very young age, Maria gives them a real devotion and follows them everywhere on social networks. Coming from a linguistic course, and therefore very keen on writing, she now takes pleasure in rubbing shoulders with the animal world accompanied by her most faithful four-legged companion, Monkey.