" Mercedes-Benz's new MPV will be electric in 2023 ".
With its EQT concept, Mercedes-Benz wants to develop a new segment of the electric vehicle market: that of MPVs. Drawing on a partnership with French manufacturer Renault, the new Mercedes T-Class is a close relative of the Kangoo, with a premium touch typical of the German marque. Will this allow him to find his audience? We're talking about it this week with Hervé JOULIN, T-Class Product Manager at Mercedes-Benz, who did us the honor of answering our questions during an exclusive interview.
Who is the Mercedes-Benz MPV for?
"In Stuttgart, the brand with the star is playing the family card with a new vehicle, the T-Class MPV. Possibility of installing 3 child seats in the back. A large boot (from 520 to 2.39 m3) for sports and leisure activities. Sliding doors for getting in and out quickly or loading and unloading easily. 7 airbags. Modern design, complete safety equipment and multiple connectivity.
In short, Premium comfort worthy of the German brand! Among the top-of-the-range equipment: a standard MBUX infotainment system (with voice control and navigation on Progressive finish), electric parking brake, seat upholstery in Artico-Microcut imitation leather, decorative inserts, 17 alloy wheels inches, Keyless Go system, mood lighting, etc. The future EQT will have a black grille as standard.
Passive safety has become indispensable. What about the Mercedes Benz T-class?
"A large number of standard driver assistance systems (hill start assist, crosswind stabilization assistant, ATTENTION ASSIST fatigue detector, active assisted emergency braking with detection of crossing vehicles, pedestrians and cyclists, active lane crossing assistant, blind spot assistant, cruise control and speed limit detection.
And as an option: active distance control DISTRONIC with automatic driving in traffic jams) make this MPV a modern and reliable vehicle for families. The suspension settings enable optimal long-distance ride comfort and the assistance systems contribute and support the driver in many situations.
The T-Class is fitted as standard, among other things, with a 7th median airbag, which can deploy between the driver and passenger seats in the event of a major side collision. Its price starts at €29,712 including VAT for a turnkey T 180 Style (131 hp petrol engine). A variant with a long wheelbase (7 seats) will follow in 2023".
When will the electric version of the T-Class arrive in France?
"The T-Class EQT model will be released in early 2023! Sustainable development is an integral part of the German manufacturer's business strategy. In 2035, Mercedes-Benz has set itself the goal of offering a range of CO2-neutral vehicles, that is to say 100% electric! This is why the T-Class platform was designed to be flexible (long version, electric).
It will offer, after the e-Vito, e-Sprinter and e-Citan models, an electric alternative to its customers. This EQT will combine multiple features and the premium appearance of the T-Class with emission-free mobility, while having its own character. It will be partly inspired by the Concept EQT presented last year. (Picture below)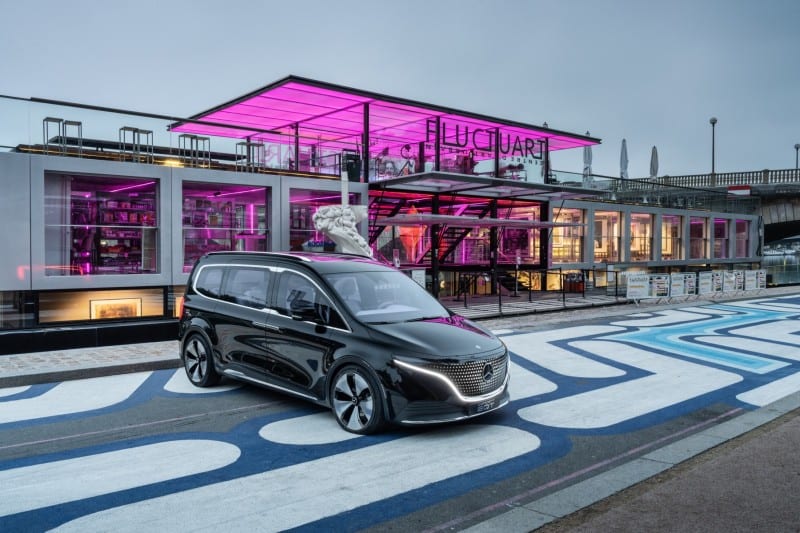 On the exterior, it will be differentiated by its black grille giving an overview of the series of vehicles to come. All electrical displays and settings will be found in the main menu of the infotainment system as a central access point. This is where information on departure times and consumption history will be displayed, among other things! Combined with the "Mercedes me connect" app, this offer will also include specific EV navigation services and functions such as easily accessible charging stations".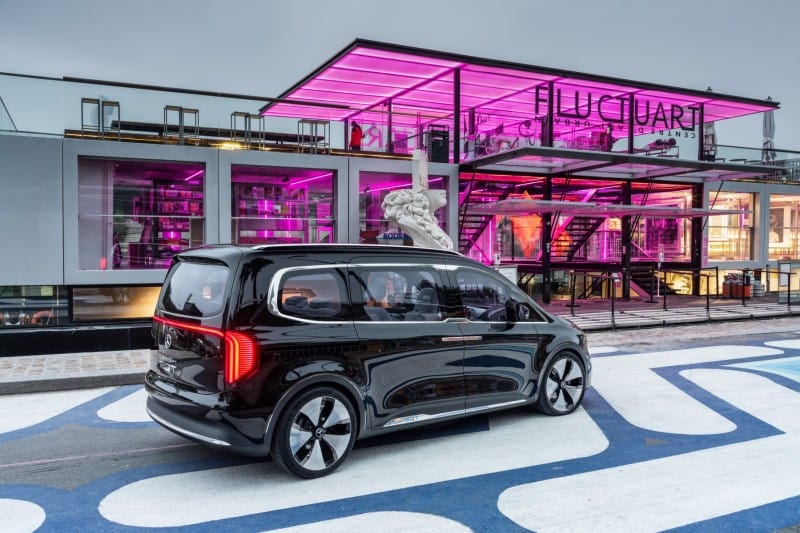 In practice, how will the recharging of the Mercedes-Benz T-Class take place?
"The EQT can be recharged at the front, behind below its star, which will prove practical and comfortable, particularly in town where parking spaces are tight. AC and DC charging will be possible. The announced autonomy is planned around 300 km.
The characteristics of the EQT will be close to those of the e-Citan van already announced (battery with a useful capacity of 44 kWh, charging in 40 minutes, from 10 to 80%, on an appropriate terminal with a maximum power of 75 kW, consumption in the combined cycle: 26.2 kWh/100 km, synchronous electric motor with independent excitation (FSM) of 102 hp and 245 Nm of torque, 3 recovery levels (D- / D / D+).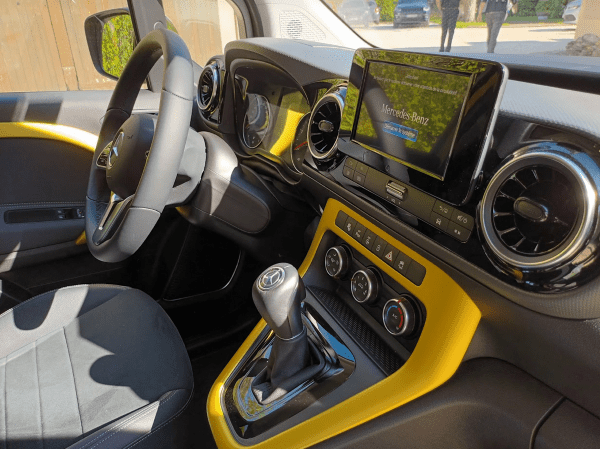 The vehicle has been tested to Mercedes-Benz standards. After a winter test focusing on road performance, pre-conditioning functions (allowing you to enter the vehicle at the right temperature in summer and winter) and ambient comfort, other tests should follow in the months to come. in Southern Europe with the 100% electric MPV. They will focus on air conditioning in the heat and on full load driving."
What about light commercial vehicles?
"Mercedes-Benz Vans will offer electric vehicles in all market segments from the end of 2022, from vans to medium and large volume vans, including MPVs and large people carriers. From 2025, all new commercial vehicle architectures will be exclusively electric. Durability will be highlighted. This will be the central aspect of the development of light commercial vehicles".