If children like to leave McDonald's with a gift in their Happy Meal, in China, some adults have had the chance to leave with a gift for their cat!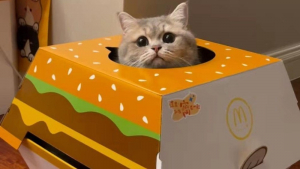 The China is a country where cats are adored. There are also many objects or figurines that represent them. McDonald's therefore had the idea of ​​creating cat houses and distributing them in limited editions.
© McDonald's / Weibo
Sandwich box cat houses
Cat houses are actually collapsible cardboard structures, as the site reports. I have a friend in the com. They're designed just like the brand's three popular burger boxes: the Big Macthe Cheeseburger and the Filet O'Fish.
© McDonald's / Weibo
They are a little taller and wider, and have a hole in the shape of a cat's head on top, to allow felines to enter.
A limited edition, offered in exchange for the purchase of a special menu
To get one of the 100,000 boxes made, you had to buy a special menu. This consisted of a spicy chicken fillet burger, chicken nuggets, fries and a coke. The initiative was an immediate success, and the stock of cat boxes was robbed in a very short time.
© McDonald's / Weibo
Netizens shared funny images of their cats in the boxes
The lucky ones who managed to get a cat home shared photos on social media. Obviously, the felines quickly understood how to use the boxes.
© McDonald's / Weibo
In homes with several congeners, some have even fought over the place!
© McDonald's / Weibo
Fun shots, which will at least have allowed McDonald's to succeed in its communication campaign.
© McDonald's / Weibo

By Wendy Lonis
Web editor
An agricultural engineer by training, Wendy combines her passions for words and animals by writing for Pets-dating. A freelance web writer, she shares her home with many furry and feathered friends: an Australian Shepherd, chickens and even racing pigeons!