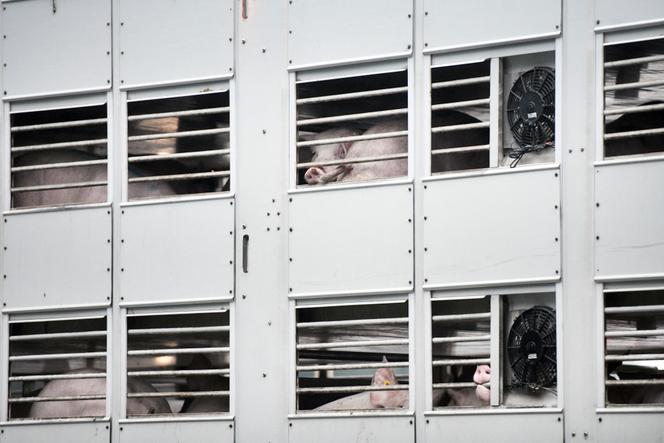 These are five evaluations of several hundred pages on the transport of animals published by the European Food Safety Agency (EFSA), Wednesday, September 7. This amount, broken down by major species families (cattle, pigs, sheep, horses, poultry), should serve as a scientific basis for new European rules governing this sector. The European Commission is indeed committed, within the framework of the "Farm to Fork" strategy ("from the farm to the fork") – its agricultural and food roadmap developing the objectives of the Green Deal for the climate –, to revise, by the end of 2023, the current legislation which dates back to 2005.
Hunger, thirst, injuries or heat stress are among the suffering that animals suffer during unsuitable transport conditions. While 1.4 billion poultry are moved on European roads each year, as well as 31 million pigs, 4.3 million cattle and 3 million sheep, the Scientific Agency has been entrusted with the task of redefine animal welfare indicators, identify the risks at each stage of transport (loading, journey, break time, etc.) and establish recommendations.
Optimal thresholds
Among the first points of attention is the declaration of fitness of the animals for transport, considered by the EFSA "as being of the utmost importance". Before each trip, the animals must be declared "fit". Sick, injured or very weakened animals cannot, in theory, be moved. Similarly, particular attention must be paid to pregnant or lactating females as well as to unweaned animals, which are more sensitive to transport-related risks. However, the assessment of aptitude is not based on any defined criteria to date. The EFSA thus calls for precise aptitude thresholds to be set and for professionals to benefit from training.
Read also:
Article reserved for our subscribers

The war in Ukraine threatens the greening of European agricultural policy
During journeys, three main parameters can cause stress and suffering: temperatures, journey times and the space allocated. For each, the Agency has defined optimal thresholds and maximum thresholds beyond which it considers that a risk arises. For cattle or sheep, for example, the temperature inside vehicles should not exceed 25°C (current legislation sets the limit at 30°C, with certain exemptions). For pigs, the Agency finds that piglets can withstand up to 30°C when sows cannot endure a temperature exceeding 22°C. An equation made even more complex, because the outside temperature is not representative of that which is noted inside the vehicles, often higher by several degrees. Furthermore, for animals, it is the combination of temperature and humidity that can cause heat stress. EFSA therefore calls on the legislator to set measurable and applicable thresholds.
You have 52.37% of this article left to read. The following is for subscribers only.