This is a large-scale rescue that recently took place in the town of McHenry, in the United States. Dozens of felines were found in unsanitary conditions. They lived alone in a house whose owners could not be found…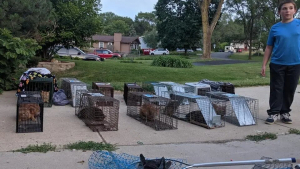 The McHenry County Cat Rescue Coalition is a rescue group that recently rescued 33 cats and 12 kittens, who had been abandoned in unsafe and unsanitary conditions, as reported by the magazine Lake McHenry Scanner.
A situation spiraling out of control
It all started, according to the association, when the former owner of the premises accumulated more and more kittens in her home. She found it " cute ", reports the local magazine. The woman would have given some felines to her entourage, but others have not found an adoptive family.
Illustrative photo
Following this, the felines continued to reproduce among themselves, until the situation became unmanageable for their "mistress". She would therefore have fled and abandoned this colony of cats in her old house…
The McHenry County Cat Rescue Coalition then came to the aid of the many felines by dropping them off at the SPA local. They underwent a battery of veterinary examinations before they could be adopted.
Internet users react to the event
The animal rescue operation was relayed on social networks. If users of Facebook did not fail to thank or congratulate the rescuers, they were also quick to express their anger at this incident.
" Sterilize your cats! », « But who can do such a thing? », « It makes me so sad… ", we could read among the comments.
After being treated and examined by veterinarians, the felines were offered for adoption to join their new families.

By Maria Anki
Web editor
A great friend of animals from a very young age, Maria gives them a real devotion and follows them everywhere on social networks. Coming from a linguistic course, and therefore very keen on writing, she now takes pleasure in rubbing shoulders with the animal world accompanied by her most faithful four-legged companion, Monkey.