The two felines have both been through difficult times, but when they met at the shelter, it was as if they had known each other forever. Story of this moving story.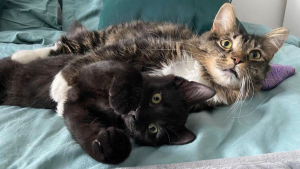 Luxx is a little kitten barely a month old when he is caught meowing loudly in the yard of a Canadian family. The inhabitants of the house did not hesitate to collect it, before contacting the local shelter, Montreal Orphan Kittens.
Orphan Kittens Montreal / Instagram
There, the little panther cat was able to start on a good footing. He was cared for and fed his fill. He needed company to overcome his shyness and sadness. So once weaned and healthy, Luxx has been introduced to other cats.
One of them, a friendly long-haired tabby cat named Oscar, welcomed him with open arms.
This two-year-old cat arrived around the same time as Luxx, as a sign of fate. "Oscar was found in an abandoned building. He had been wandering the neighborhood looking for food and shelter for some time.", shared Celine Croma member of the shelter, at lovemeow.
As Luxx, Oscar was found in poor condition and also received some medical attention upon arrival.
Orphan Kittens Montreal / Instagram
Oscar is the parent that Luxx never had
The two-year-old cat immediately took Luxx under his wing and was able to be particularly protective of him. He watched over him at all times, taught him to climb the cat tree, and to communicate better with humans.
Orphan Kittens Montreal / Instagram
Thanks to Oscar and his dedication Luxx was able to be adopted from the age of three months and join his family for life. The cat who is now 3 years old is still looking for a home. We wish him, too, to find the house of his dreams so that he can continue to do good around him.

By Maria Anki
Web editor
A great friend of animals from a very young age, Maria gives them a real devotion and follows them everywhere on social networks. Coming from a linguistic course, and therefore very keen on writing, she now takes pleasure in rubbing shoulders with the animal world accompanied by her most faithful four-legged companion, Monkey.