What does our 4-legged friend do when we leave the house? This is a question many of us ask ourselves. Sundae's mother, a black-robed Labrador, wanted to solve the mystery…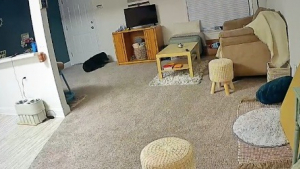 Whether she is away shopping or for something else, the mother of Sundae never finds her house in the same state as when she left it. its pretty Labrador took on habits that quickly intrigued his mistress…
The dog gathers her mother's belongings on her basket
@sundaetheblacklab / Instagram
As if to fill the absence of his mistress, Sundae gathers on his bed several belongings reminding him of his human mother. Shoes, socks, clothes, everything is good for the female dog.
Touched and intrigued by these reflexes, the young woman wanted to know more, as she tells The Dodo. She therefore invested in a camera, in order to really know what was going on in her absence…
@sundaetheblacklab / Instagram
What she will discover will make her sad
One day, while on her way to the store, the woman received a notification from her camera system, informing her of movements in her house. She broadcast the scene on TikTokwhich moved thousands of Internet users.
@sundaetheblacklab

I'm never leaving her alone again ????

♬ Home – Edith Whiskers
Instead of seeing his Labrador gathering her belongings on her bed, she actually noticed that the dog was spending her time waiting for her mistress to return, against the front door. "Every time she repositioned herself near the door, I got a notification", says the mother of Sundae. "My heart literally broke; I was crying in the grocery store watching her wait for me".
If the dog gets up from time to time to collect her mother's things, she actually spends most of her time waiting for her return. An electric shock for his mother, who now avoids leaving Sundae alone too long. "From now on, I'll take it with me to the storeSince then, the dog has benefited even more from the precious company of her mistress. A small victory, all in all!

By Maria Anki
Web editor
A great friend of animals from a very young age, Maria gives them a real devotion and follows them everywhere on social networks. Coming from a linguistic course, and therefore very keen on writing, she now takes pleasure in rubbing shoulders with the animal world accompanied by her most faithful four-legged companion, Monkey.