Jensen is the name given to the little rescued dog, to echo the bowlegged legs of American football player Rayan Jensen. The survivor suffers from a syndrome which makes his front legs abnormally convex. Luckily, he will be found on the street and will have the right to an ordinary life..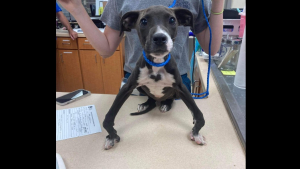 Last JulyKarey Burekshelter coordinator Suncoast Animal League of Palm Harbor (United States) was visited by good Samaritans, having found a black and white puppy nearby. His testimony is relayed by 7News Miami. The woman was challenged by the physique of the unfortunate, very thin and whose legs were abnormally curved.
Despite his health problems, jensen didn't seem to be in pain. Karey drove him to the animal medical center anyway Paws & Claws. He was attended to by Dr. Cindy Culpepper, who examined him and x-rayed his paws. No fracture appeared on the results, not even a small injury.
First, the specialist thought that this malformation was the consequence of malnutrition. Indeed, the canine weighed only 5 kilograms when it was found, which was too little for its age and size.
Suncoast Animal League / Facebook
A syndrome at the origin of the malformation
But after further examination by another specialist, it turned out that jensen was suffering from Carpal Laxity Syndrome, causing hyperextension of the carpals (wrist area). He therefore followed physiotherapy sessions and a weight gain program.
When his condition stabilized, he joined a foster family, with a new adoptive mother who had already dealt with these kinds of symptoms. The latter took care of him, massaging him and making him do exercises to improve his posture. He also wore splints to strengthen his limbs.
And the progress of jensen are impressive. Now he is much more stable on his feet and can run with other dogs!
Thanks to his perseverance and the kindness of those around him, he was even able to join a permanent family at the end of last August!

By alexander god
Chief Editor
A graduate of a Master in Writing, Alexandre has been a dog lover since a very young age. After growing up with many dogs, this adorer of the Beaucerons unearths you every day the news that will move you and inform you about our favorite companions.