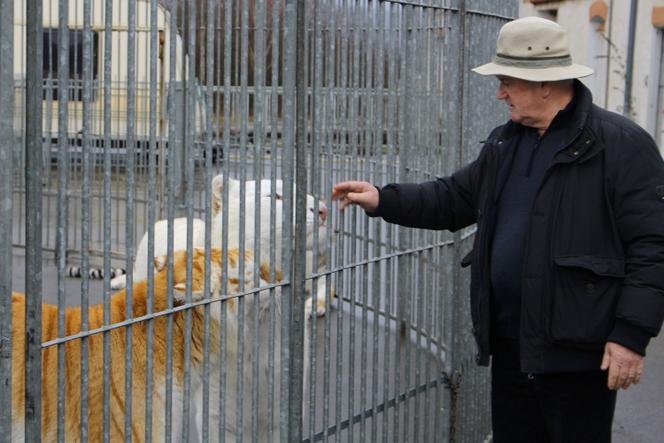 Mario Masson has lost his taste for spectacle. At 62, the trainer of big cats no longer wants to set foot under a marquee, even to sit in the stands. The former boss of the Maximum circus has drawn a line under the star track and sold his costumes studded with sequins.
With his wife, he put his caravan in a small village in the Loiret whose name he wishes to conceal. "The morale is gone, I want to be left alone", sighs the man who has spent four decades wielding the whip for the big names in the circus, Bouglione, Gruss or Zavatta, taming horses, dromedaries, elephants and, above all, tigers, these unpredictable colossi to whom you must never turn your back.
Trapped in their truck
The trainer has been brooding since justice confiscated his last tigers in December 2020. Three males and seven females with white, golden or red coats, which he rented to circuses and produced on set. "The prettiest tigers in France", swears the trainer, whose trial will take place in the Beauvais court on September 20, 2022. One Voice, an animal defense association, accuses him of " bad treatments " towards his felines, an offense punishable by one year in prison and a fine of 15,000 euros.
"It's a witch hunt against the profession (…). To take our animals is to destroy the investment of a life. » William Kerwich, president of a group of trainers
Mario Masson will also have to answer for a dozen other offenses related to his activity. He is notably suspected of having bred and sold tigers without authorization, a traffic that can bring in several thousand euros per feline. Muriel Arnal, the president of One Voice, awaits an exemplary sanction. "I hope that the animals will be permanently taken away from him and that he will no longer have the right to own them", confides this admirer of the primatologist Dian Fossey, who has scrapped with the Circassians for twenty years.
The battle for "the prettiest tigers in France" began three years earlier, in the open countryside, in Blacourt, a town in the Oise department of 600 souls. At the beginning of 2019, amazed walkers saw, in the courtyard of a disused factory, big cats locked in a cage truck. Neighbors sometimes hear them hissing.
Read also
Article reserved for our subscribers

The tragic fate of Mévy the tigress
This discovery worries the One Voice association, which manages to film the trailer for six days in a row. The images show tigers trapped in their truck, far from regulatory obligations – according to a decree of March 18, 2011, animals must stay at least four hours a day in an outdoor space called a relaxation cage.
You have 53.99% of this article left to read. The following is for subscribers only.