Water and electricity do not have the reputation of doing good business. Except with the Tesla Model 3 apparently. In any case, this is what this video made in China suggests to us.
As the crowd seems to be cheering the driver on, he decides to go straight to the middle of the pond. The water table reached is so deep that the whole car is submerged. The Model 3 continues however, and then as it comes out of the water and turns around to make another pass, we see something attached to the rear of the vehicle.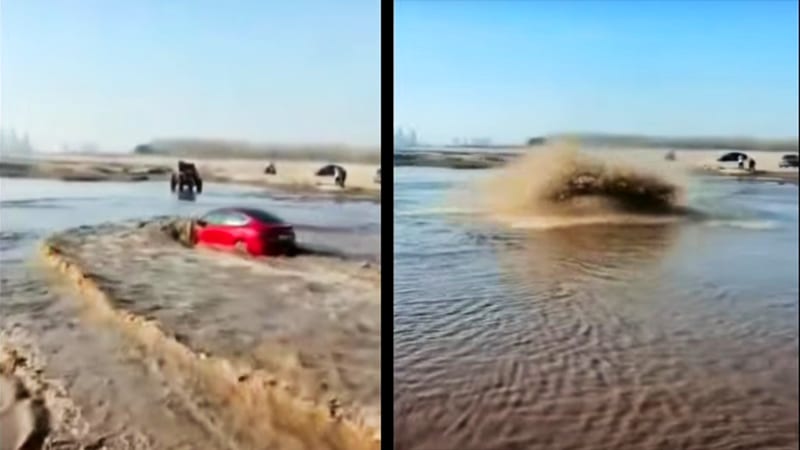 One could assume that it is some kind of propeller, but it seems more likely that it is a winch. Maybe pulling this Tesla out of the water was the plan all along, but what the vehicle pulled through without outside help.
The video of the Tesla Model 3 in mode " boat "
Elon Musk had said the truth, well almost
Our favorite Elon Musk once told us that a Model S could act as a boat for a short while. Particular attention has been given to the insulation of components in the vehicles of the electric motorization giant. Nevertheless, it appeared that the design was not infallible, at least for the old S models, some of which leaked after a few years of use.
The Tesla Model 3 seems to be Tesla's best "boat"
The Model S Plaid has already been tested by a YouTuber under two meters of water. The latter loaded the loan vehicle with 2 tons of ballast to be able to navigate it. Unfortunately the ballast was not enough to sink the vehicle enough to obtain total immersion. The partial report showed some electronic malfunctions, but nothing major.
As for the Tesla Model 3, it has already been seen several times on the streets of flooded Chinese provinces turning into a boat. This is probably what convinced the owner of this vehicle that he could indulge in this adventure.
Source: Insideevs