Roo and his young master Luke form an extraordinary duo. Both suffering from their "difference", they support and comfort each other.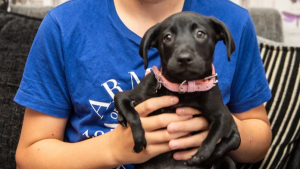 Roo is a Labrador born with a deformity. She has 6 legs. Its two front legs are split. Luke, his young master, suffers from a skin disease called psoriasis, which is manifested by the presence of red patches covered with dead skin. Because of this condition, the teenager is the victim of teasing at school.
© SWNS
Roo and Luke are very attached to each other
The little Roo is a dog full of joie de vivre. Although she is forced to move around by hopping like a small kangaroo, she enjoys life to the fullest and does not worry about her difference.
"We love him madly. He's just a normal dog for us. Her special legs don't cause her any pain, and it's easy to see how energetic she is.", said laurenthe mother of Lukein words reported by Demotivator.
© SWNS
Roo arrived in the family of Luke in 2019. Very quickly, the young Londoner became attached to her and they forged a beautiful friendship. When the Labrador was mocked for having extra legs, Luke stood up for him and was very protective.
Roo's arrival changed Luke's life
Luke adores his dog as she is, with her handicap. And that helps the young man to accept his own difference. Moreover, the love and tenderness that the Labrador has for him greatly soothe him and reduce his stress. However, stress is an aggravating factor for psoriasis.
© SWNS
Thereby, Roo allows to Luke to feel better about yourself, literally and figuratively. An essential support in the face of the wickedness that adolescents can show to each other.
Roo underwent surgery to make it easier for him to walk
In 2020, the family of Roo decided to offer him surgery to remove his supernumerary legs. Thanks to this, the female dog can now walk and no longer needs to hop.
Roo is now preparing to become a therapy dog ​​to accompany her caregiver mom and soothe residents of retirement homes. The dog has not finished spreading love and sweetness around her!

By Wendy Lonis
Web editor
An agricultural engineer by training, Wendy combines her passions for words and animals by writing for Pets-dating. A freelance web writer, she shares her home with many furry and feathered friends: an Australian Shepherd, chickens and even racing pigeons!