After going through difficult times, a veteran will regain a taste for life in the company of a wonderful service dog named Major. All this was possible thanks to an association that helps veterans.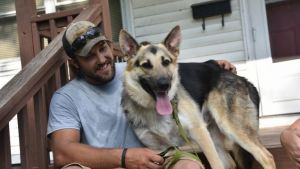 The german shepherds make wonderful assistance dogs. In any case, this is what the members of RedLeg Tech Incan American organization that helps veterans, especially in the search for dogs of this type.
Recently, they had to take on the task of placing the young Major in a new family, reported The Leader Union. While doing their research, they agreed on the name of Cory Klitzinga veteran of the National Guard.
The Leader Union
The man, who lived in the state ofIllinoishad served in the US Army from 2005 to 2014. He had also been deployed in Afghanistan in 2008, and was undeniably marked by this experience. He had now reached his home in the city of Vandaliaand was not opposed to the idea of ​​welcoming a dog into his home.
A "fabulous" event for the veteran
" A dog will be a good companion, someone I can rely on and who can rely on me. It will prevent me from having dark thoughts in my head he confided to the magazine. It is therefore quite natural that the proposal of the arrival of Major in his house was like a " sign " for him.
The Leader Union
After 2 days of travel, Major joined the house of his new master and since his arrival, Cory is happier than ever. He welcomed his best friend with open arms, and now enjoys every moment in his company. " I just hope to be the best dog dad I can be " did he declare.

By Maria Anki
Web editor
A great friend of animals from a very young age, Maria gives them a real devotion and follows them everywhere on social networks. Coming from a linguistic course, and therefore very keen on writing, she now takes pleasure in rubbing shoulders with the animal world accompanied by her most faithful four-legged companion, Monkey.