Arthur is a 3 year old Greyhound mix with lots of love to give. Unfortunately, his stay at the shelter drags on because his race does not seem to please those who cross his path. The volunteers will do everything to find him a loving family.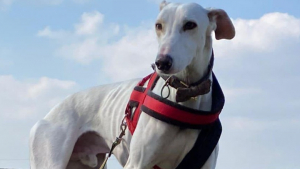 the Mirror say that when arthur arrived at the shelter Jerry Green Dog Rescuein the Nottinghamshire in England, he had health problems. Wandering and hungry, the dog notably had to undergo a tail operation because of an infection.
Jerry Green Dog Rescue/Facebook
Following all these hardships that happened far too early in his life, the 3-year-old dog was finally ready for adoption. But to the chagrin of the members of the shelter, his stay will drag on, because his race does not seem to please visitors…
A loving and courageous doggie
Adopters are often looking for young puppies or purebred dogs, which is not the case witharthur. The volunteers of Jerry Green Dog Rescue have therefore made a point of drawing a flattering portrait of him, in the hope of finding him a home.
" I love playing with stuffed animals », « I'm the cuddliest boy ever » : in a publication Facebook, the members of the shelter have tried everything to appease people looking for an animal. They also specified that the doggie could live with another dog, but no small animals (rodent type) and that he had to have a fenced garden at his disposal to be able to spend his time there as he pleased.
Then, after long months of waiting, the deliverance
arthur finally crossed paths with a family that already owned a dog named Barney, and to his delight, he joined them for life! The dog was finally going to be able to receive all the love he had waited for so long. A story that ends wonderfully well, and whose sequel promises to be even more beautiful…

By Maria Anki
Web editor
A great friend of animals from a very young age, Maria gives them a real devotion and follows them everywhere on social networks. Coming from a linguistic course, and therefore very keen on writing, she now takes pleasure in rubbing shoulders with the animal world accompanied by her most faithful four-legged companion, Monkey.