A dog made a masterpiece of clothing by accident!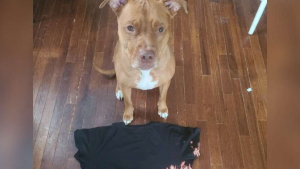 Some animals seem to have an artistic streak, which their owners strive to develop. Some dogs, for example, are able to hold a brush between their teeth and create more or less sophisticated paintings. Apollohe created a true work of art, but inadvertently!
Apollo has a bad habit: drinking from toilet water
tori is the proud owner of a somewhat clumsy Pit Bull named Apollo.
© Tori
This 6-year-old dog has an annoying habit: drinking from toilet water. He's not allowed to, but as soon as his landlady's back is turned, he sneaks into the bathroom and quenches his thirst in the bowl. It is by doing this stupidity once again that the Pit Bull has achieved a work of art.
An accident that could have been dangerous, but which produced a very nice t-shirt
"I had a pile of laundry on my bathroom floor and there was a spray bottle of bleach-based cleaner nearby.", Told tori at The Dodo. "When I left the house to do some shopping, I closed the bathroom door like I normally do, but it didn't lock completely."
© Tori
Like he usually does, Apollo slipped through the half-open door and headed straight for the toilets, taking advantage of his mistress's absence. Along the way, the clumsy animal knocked over the bottle of bleach. This product is toxic and irritating to animals, and this accident could have been dangerous. But by chance, Apollo didn't care about the bleach, which spilled onto the pile of clothes. The dog just lapped up the water from the toilet.
A work of art on a t-shirt
When tori came home from her shopping, she was relieved to see that her dog was doing very well. On the other hand, his clothes were partially discolored by the product. above the stack, tori discovered a black t-shirt that had very nice fading patterns.
© Tori
They looked like flames or else autumn foliage. This quirky design was due to the t-shirt being wrinkled when it was stained.
© Tori
In the future, tori be more careful with bleach. But in the meantime, she proudly wears this unique t-shirt!

By Wendy Lonis
Web editor
An agricultural engineer by training, Wendy combines her passions for words and animals by writing for Pets-dating. A freelance web writer, she shares her home with many furry and feathered friends: an Australian Shepherd, chickens and even racing pigeons!