Lévi the cat likes to get into trouble when he goes outside… a source of stress for his mistress, Sandra. Fortunately, she had a great idea that solved the problem and intrigued thousands of Internet users.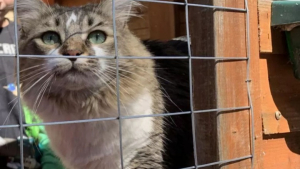 Sandra and his family live in Californiain the bay of san franciscowith a 2-year-old cat named Levi. They had a large wooden play area for the children in their garden, but the children started to grow up and no longer use it.
Sandra / Reddit
Sandra and her husband then had the idea of ​​transforming it into a catio, also called an outdoor cat playpen. The goal ? Ensure the safety of the feline once outside. After watching tutorials on the Internet, they got to work for a few hours, and can be proud of the result…
A space where the cat is happy and safe
Sandra / Reddit
A project that Sandra share to Newsweek : "We donated the slides and swings and kept the main house to turn it into a catio. The cat loves it and we didn't have to buy anything other than wire and door hooks to transform it."
On Reddit, his story has earned him many positive comments. "You are the best cat parents", "This cat has a better life than me" we could read there. Some Internet users have given tips to Sandra to improve catio, something she intends to do by adding cat tree, a little litter and toys. Others were convinced by his project and also took the plunge. A clever and original way to allow your cat to enjoy the outside air with complete peace of mind.

By Maria Anki
Web editor
A great friend of animals from a very young age, Maria gives them a real devotion and follows them everywhere on social networks. Coming from a linguistic course, and therefore very keen on writing, she now takes pleasure in rubbing shoulders with the animal world accompanied by her most faithful four-legged companion, Monkey.