In Alaska, an elderly dog ​​showed great courage to protect and defend her home from a brown bear.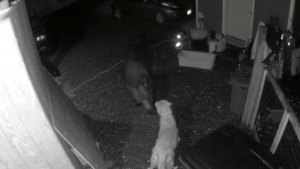 In Alaskabrown bears are numerous, as reported by People. They generally favor forests and other natural environments, and avoid encountering humans. However, in the city of sitkain the middle of the night, one of them approached very close to the house of the musician Nicholas Galanin. The incident took place on August 15, at 11:30 p.m.
Pretty did everything to scare away the invader
Pretty is the Golden Retriever of Nicholas. 11 years old, she was however not impressed when the bear came towards her. On the images recorded by the surveillance cameras of the house, we see the Golden going in front of the bear and we hear it barking.
© ViralHog / YouTube
The wild animal doesn't seem particularly aggressive, but it continues to approach Pretty, despite the Golden Retriever's warnings. So much so that the two animals end up meeting face to face. Pretty then bite next to the bear's head to scare it away.
© ViralHog / YouTube
But the latter has not said his last word. He is still approaching Pretty, who backs away a bit before barking again. His tenacity ends up getting the better of the intruder's determination, who turns back. The Golden takes the opportunity to run towards him and make sure he gets away from his house and its inhabitants for good.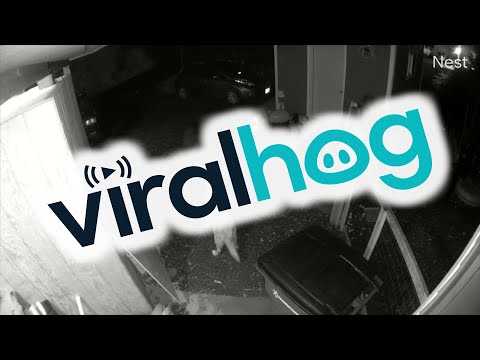 "Pretty needs to be renamed Legend"
When the father of Pretty discovered the videos from his camera, he was stunned. His dog would obviously have lost a fight against such a bear. But she was so sure of herself that she managed to scare him. An extraordinary courage, which makes its owner say "you have to rename Pretty to Legend". Nicholas can be proud and feel reassured in the presence of his faithful dog. Nothing can dissuade her from protecting her family.

By Wendy Lonis
Web editor
An agricultural engineer by training, Wendy combines her passions for words and animals by writing for Pets-dating. A freelance web writer, she shares her home with many furry and feathered friends: an Australian Shepherd, chickens and even racing pigeons!