When you live in the company of a dog, you quickly realize that boredom is no longer part of it. Indeed, these creatures are so playful, curious, limitless and resourceful that they always find new things to do. Their finds make the daily life of the owners a real parade.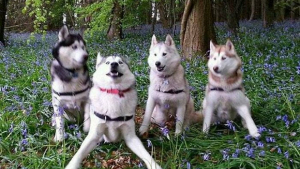 The life of a dog owner is as unpredictable as it is surprising. As you can see in these photos.
Here are 20 photos that illustrate how dog owners are never at the end of their surprises with their 4-legged friends.
1. An owner sitting on the sofa watching TV is an owner who may fly away at any moment, so you have to restrain him
2. He was dozing until he heard his owners talking about meat, that's when he got on the lookout
3. The yoga session is done in pairs in this house where the dogs follow this practice
4. These 2 4-legged friends do so often anything that their owners are surprised when they do something normal
5. In the middle of a play session, this puppy fell asleep without warning.
6. This dog would do anything to share his best friend's habits.
7. This young man just has to wait for his dog to finish his nap
8. A sleep position that's definitely not comfortable, but he's not complaining about
9. For no apparent reason, the Siberian Husky sometimes starts wanting to squabble with his congener who is not in the mood to play.
10. He thought he had a good idea planting himself, as compensation for uprooting the plant that was in that bin.
11. The carrot temptation is too intense for this dog.
12. An Australian Cattle Dog looking back on his career as a herding dog
13. Don't forget to call her for the photo
14. Their Pug turns into "meatloaf" when he takes a nap.
15. Their dog got lost in a plastic bag again.

16. The photo session will have taken place in joy and good humor, even if he did not show his best side

17. A foursome who freak out about choosing which pose to take for the photo.

18. The baby's pacifier was bitten by the puppy again.

19. He is resting in the hole he dug himself

20. A dog who pretends not to have his head stuck in a cereal packet.

By alexander god
Chief Editor
A graduate of a Master in Writing, Alexandre has been a dog lover since a very young age. After growing up with many dogs, this adorer of the Beaucerons unearths you every day the news that will move you and inform you about our favorite companions.