Dogs' joie de vivre spreads easily and quickly around them. As these photos prove.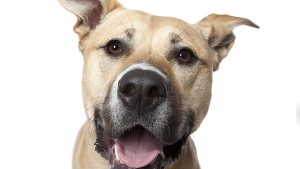 Some days, our good mood is not there and nothing can be done about it, with only one exception. Indeed, if there is indeed an infallible remedy against gray mines, it is the joy of living and the happiness of our dogs that are particularly contagious.
Here are 17 pictures of dogs that will put a smile on your face.
1. A senior dog with lots of joy
2. Something makes this dog so curious that his mouth is falling out.
3. Such a bubbly gaze certainly comes from the presence of treats around
4. A dog with a perfectly communicative enthusiasm
5. This dog's good humor is an invitation to petting and playing
6. An adorable puppy who just has to be there to put everyone in a good mood.
7. Something piqued his interest and made him tilt his head
8. The wonder that can be read in his eyes is enough to drive away our bad mood
9. This dog's gaze makes us very curious to see what he sees
10. This dog has enough energy to spend all day playing with us.
11. The enthusiasm that can be read on his face certainly does not leave us indifferent
12. Although a bit shy, this Border Collie just wants to play games to put everyone in a good mood.
13. A ball of fur that we would never tire of pampering
14. With his tongue out, this dog makes us laugh
15. A lively plush that never misses an opportunity to make us smile
16. This dog has the banana even without visible teeth.
17. Her sparkling gaze makes everyone agree

By Alexander God
Chief Editor
A graduate of a Master in Writing, Alexandre has been a dog lover since a very young age. After growing up with many dogs, this adorer of the Beaucerons unearths you every day the news that will move you and inform you about our favorite companions.