Dogs live almost a rebirth at the time of seeing their wandering life come to an end. As these photos show.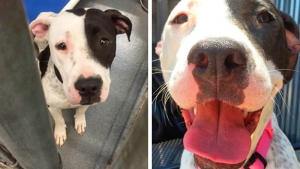 The life of stray dogs is often hard and trying. Between the lack of food and the health problems, the unbearable heat and the freezing cold, they live an ordeal. It is only when a charitable soul reaches out to them, heals them and adopts them that they can finally breathe.
Here are 16 before/after pictures of dogs who were finally rescued from the streets.
1. This pug's little face gave way to a big smile
2. This dog escaped euthanasia and lives today in the joy of family picnics
3. This canine got rid of the sad face that overwhelmed him in the animal shelter to replace it with a contagious joie de vivre
4. This little dog weighed very little and was shaking with fear when we found her.
5. This dog's very expressive eyes were a cry for help that was thankfully heard.
6. Her gaze begged the universe to send her a family to adopt her, a wish that was granted
7. The features of this adorable dog are visibly less tense and tense now than her 2e life began
8. A dog who was able to regain a healthy weight and coat after being adopted by a family who saved him from wandering
9. Fear was in his eyes so poignantly that you could only reach out to him.
10. Doomed to euthanasia because of a skin disease, this dog was saved by a young girl who gave her a second chance
11. The feeling of loneliness that gnaws at stray dogs has no remedy but a family life filled with love and sharing.
12. This dog's once dull eyes are finally lit up with the love he deserves.
13. After a long life of wandering and debilitating illness, this dog received life-saving care after meeting his adoptive family.
14. The before/after photos of a suspicious puppy who suffered from different skin conditions, then of the same dog 7 years later
15. This dog had a big tumor on his paw and had the chance to meet the person who was going to adopt him, take care of him and make him live with another canine and playmate.
16. This dog said goodbye to the fear that paralyzed him and kept him in his cage to become an insatiable player and lover of the great outdoors.

By Alexander God
Chief Editor
A graduate of a Master in Writing, Alexandre has been a dog lover since a very young age. After growing up with many dogs, this adorer of the Beaucerons unearths you every day the news that will move you and inform you about our favorite companions.